Kristen Erwin and "Road Rage"
I was contacted by Kristen a couple weeks ago and she asked me if she could paint a picture of Gracie. She is doing a series on little girls...what they are made of, the lives of and all the fun stuff in-between. She says there is so much art out there that focuses on the negative aspects of the world whereas she likes to focus on the lighter side of life, like children running and playing...or in this case, Gracie full of spunkiness....she says it makes people feel good and I can't agree more.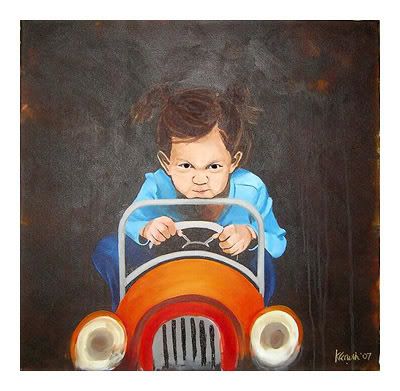 Well, she had a showing of her work and she said Gracie was a HUGE hit and the painting was bought by a woman in her mid 60's. She told Kristen that when she saw it she about fell over. She said it reminded her of how she was when she was that age. "A little toot!" =) Funny thing is, I call Gracie that all the time!

Anywho, check out Kristen's portfolio, you'll love her stuff. She's going to paint another picture of Gracie for me and I'm having a heck of a time deciding which one! LOL!!