The card......
So, here's our Christmas card you guys were asking about.....I choked! It's lame, I know but my creative juices were gone after I finished with my customer's cards so this had to do. On the outside it says
"
You better not pout
"
and inside it says
"
Santa is coming to town!
Happy Holidays,
Love,
Grady, Brenda and Grace
"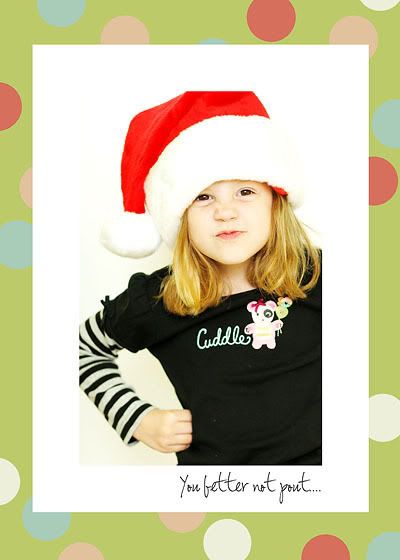 I'm going to MIA until the first of the year....we are taking a little vaction and I'm updating my site and all that fun stuff (like cleaning the computer...YUCK)! I still need to post my top 10 (that may be after the 1st though).
In closing 2006, I just want to say how grateful I am to be able to do what I love! Just a year ago, I got my DSLR and I never imaged that it would take me on this path. I'm so honored that I was able to capture my client's special moments...so thank you for choosing me. =)
And for all of you that have sent me emails, asked questions, bought my actions and/or just left me some wonderful comments.....THANK YOU! I'm not sure if I helped with all the questions but I tried! LOL!! I'm blessed that some of you call me an inspiration....that still blows me away when I see those comments and posts. WOW!! =) Sometimes when I feel I'm in a rut or overwhelmed...I read what you guys have said and it makes me want to do better....so thank you again. =)
And for those of you that feel they just want to throw their camera out the window.....just stick with it. I still at times find myself struggling. Just keep working at it and before you know it, you'll be someone's idiol (if you already aren't). =)
Anywho....I want to wish all you guys a very wonderful holiday season! Have fun, be safe and be a kid again....that's what it's all about! =)
Blessings,
Bren